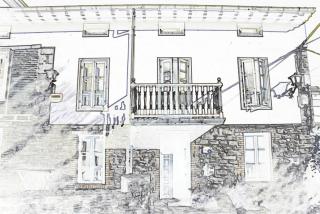 OUR INN
Housing of a typical rural town in the area, 1,5 km from Santillana del Mar, built in the second half of the nineteenth century by the grandfather of the current owner, which has been renovated and converted to tourist use. It has 8 double rooms with bathroom and heating for rent, located on two floors. It also has two lounges, fireplace, and a small terrace. The furniture is from these same years, very well preserved, and both the rooms and the living rooms are decorated with a small collection of modern art. It offers bed and breakfast accommodation. Facilities to park.
OUR SURROUNDINGS
The "Las Quintas" Inn is located 4 KMS from the knot of the road network of Cantabria, so the most distant of the Region are to 1 hour travel time, if we add the rich landscape and historical and artistic community, the chances of the House as starting point for tourist routes are unlimited.
Beaches

: Suances, Comillas, San Vicente de la Barquera, Liencres and Santander are very close.

Prehistoric caves with paintings

: Altamira and Puente Viesgo are 2 and 12 Kms respectively..

Cave whit high geological value

: El Soplao, 55 km.

Natural parks

: Dunas de Liencres, Oyambre, Cabárceno and the reserve of the Saja about 20 km. The Collados del Asón and the Santoña marshes to about 70 km and 80 km peaks of Picos de Europa.
Trekking, hiking

: routes and city breaks

Pathways via ferrata

or

surf

: leisure activities
Cities and towns

of great tourist attraction such as Santillana del Mar, Comillas, San Vicente de la Barquera, Santander, Noja, island, Santoña, Laredo, Bárcena Mayor, Liérganes or Reinosa, 2 to 45 minutes of travel

The region of Liébana

in the shadow of the Picos de Europa to one hour travel time

Central coast

: area where the Inn is located
In the 'Las Quintas' Inn you will find plenty of information about all the places of interest from the points of view of artistic, cultural, natural, tourist and local heritage and offer advice to anyone who requests it, routes, places and cultural activities, both the more notorious as some other quite unknown and extremely valuable.
We offer different prices depending on the season of the year (see "Precios"). Rooms are doubles with double or twins beds, with possibility of an extra bed; they have a private bathroom and heating, free wi-fi and offer hair dryer. Television in one of the common rooms. 24-hour reception.
The rooms have a panoramic overlooking the Valley. From Monte Castillo, a half-hour walk, an overview about Santillana del Mar and a perspective to circular 360 degrees ranging from Santander to Picos de Europa and the coast to the monte Dobra, Sierra del Escudo and Sierra de Bárcena Mayor.
Our GPS position is N 43 ° 22'57 1 "W4 ° 05'12. 6". See location on map.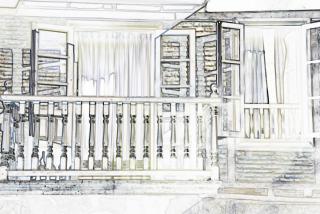 NOTRE POSADA
Membre d'un village rural typique de la région, construite dans la seconde moitié du XIXe siècle par le grand - père du propriétaire actuel, qui a été restauré et converti en usage touristique logements. Il dispose de 7 chambres doubles avec salle de bain et chauffage à louer, situé sur deux étages. Il dispose également de deux salons, une cheminée et une petite terrasse. Le mobilier est vintage, très bien conservé, et les chambres et les salles sont décorées avec une petite collection d'art moderne. Se ofrece alojamiento y desayuno. Nous vous proposons de hébergement et de petit déjeuner. Chambre d'hôtes est offert. Des facilités de parking.
NOTRE ENVIRONNEMENT
La Posada "Las Quintas" est situé à 4 km de la jonction du réseau routier de la Cantabrie, de sorte que les parties les plus éloignées de la région sont à 1 heure de route, si l' on ajoute le paysage et historique et la richesse artistique de la Communauté ,, les possibilités de la maison comme un point de départ pour les itinéraires touristiques sont illimitées
P

lages

:

Suances, Comillas, San Vicente de la Barquera,

Santander

Liencres

ou

sont très proches.

Grottes préhistoriques

avec

peintures:

Altamira

et Puente

Viesgo

est à 2 et à 12 km respectivement.

Parcs naturels:

Dunes

á

Liencres

,

Oyambre

,

Cab

árceno

et

réserve Saja

à 20 km

.

Les

Collados de

As

ó

n

et les

marais

à

Santo

ña

á 70 et le

parc des

Picos de Europa

à 80 km.

Randonnée:

itinéraires

et

escapades

Vías ferratas

ou

de

surf

: temps libre

Villes et villages

d'un grand attractif turistique comme

Santillana del Mar, Comillas, San Vicente de la Barquera, Santander,

Noja, Isla,

Santoña, Laredo,

Barcena

Mayor,

Lierganes

ou Reinosa

2 à 45 minutes.

La région de

Li

é

bana

dans l'ombre de

l'Picos de Europa,

voyage 1 heure.

Côte

centrale

: zone où est situé l'auberge
A Posada "Las Quintas" vous allez trouver une richesse d' informations sur tous les lieux d'intérêt du point de artistique, culturel, naturel, tourisme et sur le patrimoine local et d'offrir des conseils à toute personne qui le demande, sur les routes, les lieux et activités culturelles, le plus notoire et d'autres plus extrêmement précieux inconnu.
Nous offrons des prix différents selon la saison (voir "precios"). Les chambres sont doubles avec lits doubles ou lits jumeaux, avec la possibilité d'un lit d' appoint. Ils ont une salle de bains privative et le chauffage, wi-fi et un sèche-cheveux. Télévision dans un des salons. 24 - heures de réception.
Les chambres offrent une vue sur la vallée. De Monte Castillo, une demi - heure de marche, nous apprécions un perspective de Santillana del Mar et une vue panoramique circulaire 360º qui va de Santander à Picos de Europa et de la côte au Monte Dobra, Sierra del Escudo et Sierra de Bárcena Mayor.
Notre position GPS est N 43º22'57.1 '' W4º05'12.6 ''. Voir l'emplacement sur ​​la carte.